Hoist/Lift FAQ

Do I need a 2 post or 4 post hoist?
This depends on how you are using the auto lift.

If you simply want to store a vehicle in the air and possibly park another vehicle underneath, then a four post lift is the right lift for you. The four post lift has two steel tracks running the length of the vehicle and lifts the vehicle by the wheels. With the four post lift you can park two vehicles in one space, change oil, do some exhaust work, and with the help of your jack tray you can gain access to your tires and brakes. You can also purchase our hydraulic jack which will lift one end of the vehicle while on the lift. With the help of our caster kit, the four post lift is also portable, allowing you to move the lift around your garage or even outside to wash your vehicle. When loading a four post lift you simply drive on and off the tracks instead of having to enter and exit the vehicle multiple times to ensure the correct weight distribution at the lifting points. A four post lift ensures that you will have easy access to open and close the doors of the vehicle.

If you are planning on doing repairs, then a two post lift is the right lift for you. The two post lift engages and lifts the vehicle at four points on the frame of the vehicle. This gives you access to virtually any point on the underside of the vehicle including the wheels. A two post lift is not desirable to use for storage of a vehicle for extended periods of time. You don't have a way to protect the vehicle underneath from any fluids that may drip from the top vehicle. On a two post lift, the vehicle is lifted by the frame. When in the air, the tires will hang lower than normal minimizing the clearance you have underneath to park another vehicle. A two post lift must be mounted to the floor and is not portable.




What capacity Lift do I need?
This is a simple question when using the lift for storage. If you are using the lift for storage then you know the weight of the vehicle you ar lifting. You can simply choose the lift that has enough capacity. If you are using the lift in a commercial application and you intend to lift various makes and models, then the answer becomes a little more complicated. Simply picking a capacity and assuming it will lift any vehicle that has a weight of less than the capacity is not the right way to make your choice. You should choose a capacity that is at least 25-30% higher than the heaviest vehicle you intend to lift. Please note that our lifts are intended for road personal transport vehicles only. Our lifts are not designed for lifting forklifts, boom lifts, tractors, trailers, boats, RV's, or any other industrial equipment. Do not use our lifts as human elevators.




How much power do I need to run these lifts?

Our two post lifts run on 220 volt single phase power. Our four post storage lifts run on 110 volt single phase power. We recommend you employ an electrician to complete the hookup of the power unit. We are not certified electricians and we cannot walk you through the electrical hookup over the phone. We recommend you employ the services of a certified electrician. Please see our policies for more information.




What else will I need to complete Lift Installation?

You will need to purchase at least 3 gallons of hydraulic oil. The Power unit comes with a pigtail for the electricity. You will need to purchase a wall plug or wire the unit directly to your power source. If your floor is not level you will need to shim the lift so that it is level front to back and side to side. Large washers will do just fine for shimming your lift. If you are mounting the auto lift to the floor, then you will need a hammer drill to make holes in the concrete. A two post lift includes floor mounting hardware, power unit, and truck adapters. A four post lift is free standing and there is no mounting hardware included. A four post lift includes the power unit.




How easy is Lift Installation?

The technical aspect of the installation is very simple. The man power and time is the difficult part of the installation. Our auto lifts require at least 2 people to install and some of our larger models require more people or even a forklift. It should take 3-6 hours to complete installation of your auto lift not including electrical hookup. You will need a ladder, a set of wrenches, a level, and 3 gallons of hydraulic oil to complete installation. If you are mounting the auto lift to the floor, your will need a drill to make holes for the anchors in the concrete. This does not include the tools needed for electrical hookup.


1 Year Warranty on Hoist Parts
Below is a video we found online, to use as a reference on how easy it is to setup a 2 post hoist.
Damaged or Defective Products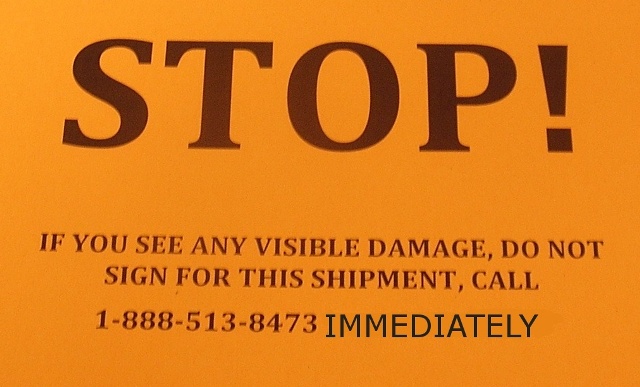 Equipment Delivery Policy
Free Shipping on equipment including Tire Machines and Hoists are for BUSINESS ADDRESSES only.
If you require shipping to a residential, farm, school, construction site, trade show or location with restricted access an extra $50 service fee is required.
If you require to be notified before delivery an extra $45 service fee is required.
If you require lift gate delivery service for your TIRE MACHINE an extra $75 service fee is required. Automotive Lifts/Hoists are too big and heavy to be delivered with lift gate delivery service.
Any extra delivery fees need to be paid at time of purchase by the buyer of the equipment.
Products that are received via freight truck should be either "refused" or "accepted" with notes made on the Bill of Lading as to obvious damage. Pictures will also be helpful in filing a freight claim. Notify us within 24 hours of shipping damages. Do not expect the freight company to furnish new parts if you have failed to make a note on the Bill of Lading that possible damage has occurred.

It is the buyers responsibility to unload the pallet, machine or hoist from the freight companies truck so you will need to have a forklift, bobcat or tractor at the time of unloading. The delivery driver is a truck driver and not responsible for unloading your equipment. Scratches and scrapes are normal when shipping large equipment. If there are dents or something is bent, please take pictures & sign the Bill of Lading with a notation of the damages and call Your Next Tire at 888-513-8473.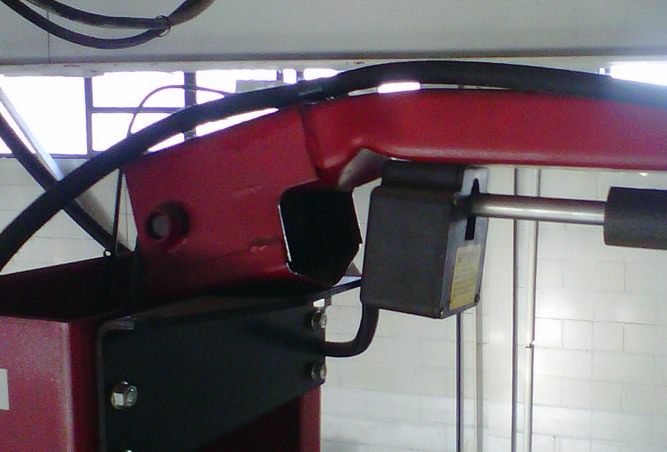 Your Next Tire spends thousands of dollars each year to secure packages and provide warning labels to "remind" our customers to "pay attention" to the condition of their packages when they come off of the truck. We can assist you in filing a claim, but Your Next Tire cannot be responsible for a customer who receives a lift as pictured above and does not sign the bill of lading with a notation that there appears to be some damage to the packaging.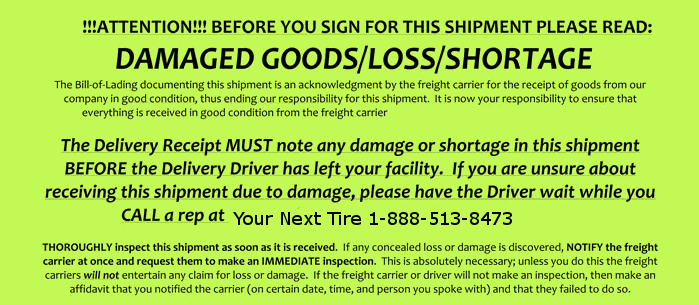 Filing a damage claim with the freight company is MUCH easier if there has been a notation on the Bill of Lading identifying the possibility of damage. Do not expect the freight company or Your Next Tire to furnish new parts if you have failed to make a note that possible damage has occurred.